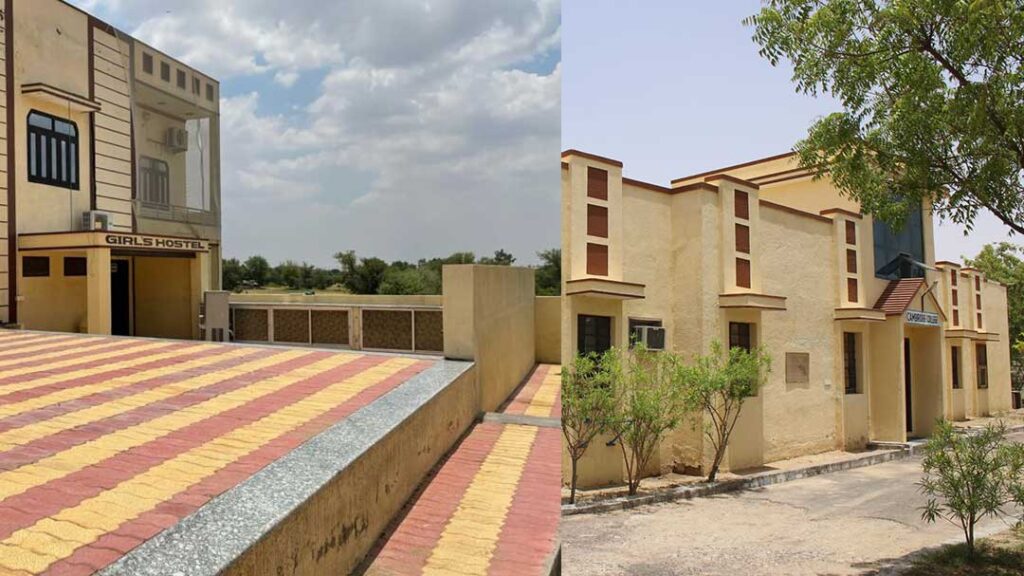 Hostel life is part of the larger life of the campus: a preparation for their future life in the world. Cambridge Educational City has 2 hostels that have boys and girls housed separately under the able custody of well trained wardens and a team of care takers/ dorm assistants who at every level look into the needs of students; ensuring physical, emotional and psychological development so that each individual grows into a balanced personality. Each student will thus learn to view hostel life as a whole, and realise that the learning process does not confine them in a narrow way to academic life alone, bus leads them out into life in many directions.
Cambridge Educational City, Sardarshahar provides separate and safe residential facilities to Boys and Girls from 1 st to Graduation level .The dorms are designed and organized in such a way that they provide a homely atmosphere. Experienced and caring dorm parents are appointed to look after the boys and girls.
The corrective and constructive steps are taken time to time by administration for better atmosphere. Since we know the success of every child is contingent on its persistent toiling and sweating, we try every possible mean so that they can do their best.
Diet and Dining :
Most hygienic mess, situated in the campus, serves pure wholesome food. Four meals a day including breakfast with milk, lunch, evening snacks with milk, dinner and night milk are served. We feel proud in serving 100% organic food, vegetables, pulses and milk which are purchased from farmers and free from pesticides and chemicals.
Utmost care is taken in cooking and serving a well-balanced nutritious diet. The authorities check every meal before it is served to the students. The most hygienic mess has capacity of 400 students to dine at a time. Teachers avail themselves of the mess facility along with the students and personally look into each student's eating habits. To ensure good health and hygiene, food is cooked in modern cooking systems. Traditional dishes of various states is a specialty of the mess.
Hostel Rules :
Boarders will compulsorily speak in English among themselves.
Boarders are prohibited to bring any costly article to the hostel such as Transistors, Camera, Tape-recorder, Albums, Magazines, Playing Cards, Mobile Phone, SIM, MP4, Pen Drive, iPod, Memory Card, CD, DVD or any type of storage device, ornaments, cosmetics & money etc. If any boarder is found with such articles/ items, it will be destroyed at the same time and will not be returned.
Boarders shall maintain cleanliness in the hostel, dining-hall, common room and the hostel environs.
Boarders are not allowed to visit residential accommodation of any staff member.
Telephonic conversation between the parents and the boarders is not encouraged. However, parents may talk to the wards on every Sunday between 10:00 am and 04:00 pm as per the convenience of the hostel warden.
A boarder is not allowed to go out of the hostel premises without principal's permission.
Boarders have to adhere to the school guidelines displayed on the hostel notice board from time to time.
Boarders will set an example of discipline in the dining hall, common room, dormitory, playground etc.
Money transactions and exchange of gifts is not allowed in the hostel.
Parents are not permitted to visit the hostel dormitories under any circumstances.
Friends, distant relatives and visitors will not be allowed to meet the boarders without proper identification.
Boarders are not allowed to go out or call tutors for tuition.
Boarders are not allowed to visit guardians or their homes during working days or at the end of each term.
Vacation time may also be utilized for educational tours, remedial teaching etc. Parents are expected to extend their support.
Boarders will choose/elect their own council for supervision, organization of various programmes and activities to assist the hostel warden.
Food parcels from parents are strictly prohibited. These will be distributed among all boarders if received by any hosteller.
A boarder if found using unfair means during any exam will be expelled from the hostel and school.
Boarders will wear specific kit for every event / function.
Boarders are not allowed to wear bathroom slippers outside the dormitory.
Failure to abide by hostel rules and regulation or no academic progress shown by the child, the principal has the right to ask a parent to withdraw the child from the hostel.
Boarders who are asked to be withdrawn by the parents or those who are expelled by the school authority will not be entitled to any refund of boarding fee.
It is compulsory for all the boarders to attend the educational tours organized by the school from time to time.
In case of emergency, if any boarder is to be operated medically, the school has all rights to take the decision in favour of the situation.
School will not be held responsible if a boarder leaves hostel without permission. If it happens, such boarder will be taken back neither in hostel nor in school and no refund of any type of fee will be made.
In case of any health problem of a boarder, school will provide the facility upto school first aid if a boarder visit to hospital in any case every expenses is to be borne by parent (s).
If any tour/camp organised by school, the school is authorised to take its own decision i.e no consent isrequired from the parents.